Our Orchards

Here at the Apple Barn, we are VERY dedicated to local fruit. The fruit that we sell is what's grown right here, in this mountain range, where the temperatures are just right. The apples that we sell and use in our products reflect our regional community and the products we—and our neighbors—grow. These are not waxed, grocery store apples, but an assortment of locally grown varieties that change throughout the season, according to what's ripe.
Mountain-Grown Apples
Many visitors say they come to the Apple Barn just for the taste of mountain-grown apples. What's so special about them? All we can say is, "Take a bite, and you'll know."
It's harder to grow apples in the South than in other regions. But the mountainous areas of East Tennessee, Western North Carolina and Northeast Georgia are known for their crisp, juicy apples with an extra punch of flavor. The extremes of temperature, with hot, dry summers and cold, wet winters, and even overwintering pests, all put stress on the trees. And those stresses give local apples a stronger, more concentrated flavor—the flavor that people expect in "mountain apples."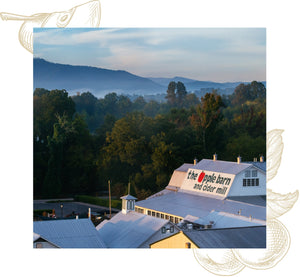 Do You Grow All of Your Own Apples?
You can see our orchard on the hillside above the Apple Barn. We have approximately 7,000 dwarf root stock trees in several different varieties. The trees may be small, but they produce a lot of apples, so many, in fact, that we use trellises to support the weight of all the fruit. Even so, we still can't grow enough apples to meet the demand.
Because so many products that we make here—pies, cakes, fritters, apple butter, apple cider—require thousands of apples each year, we can't possibly grow enough to meet the need. But all of the apples that we sell, in every product, come from local growers, our neighbors and friends.
What Varieties Do You Use in Your Ciders?
We grow many different varieties of apples here, and they mature at different times. Our apple harvest begins in late August with some early varieties and continues through October as each variety ripens. We may use as many as 30 varieties of apples to make our ciders, pies and apple butters, changing the recipes with the season. Our fresh cider is a tasty blend of some sweet, some tart, and some aromatic varieties.
Our Apples
We use many different varieties in our products, depending on the time of year, like the rich, mellow Golden Delicious. Here are some other favorites.